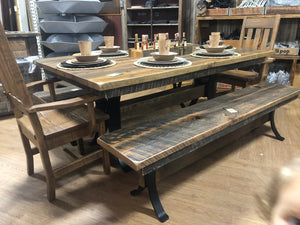 Salvaging, Reclaiming and Recycling wood eliminates the energy that is needed to harvest and process new lumber. Since most of it gets sourced locally here in Ohio, it also cuts down on shipping. These factors make it significantly more energy-efficient than conventional wood furniture. Wood is an extremely precious and finite resource that must be protected. It is also one of the most valuable recyclable materials because it can be transformed into a wide variety of beautiful and functional furniture.
If you love an atmosphere focused on Nature, stop at our Waynesville location. We carry a full assortment of salvaged and reclaimed oak furniture, architectural elements, stained glass, vintage doors, porcelain sinks, antique lighting, antique hardware. We have a wide offering of reclaimed bourbon barrel furniture and candles by Buffalo Trace, Jim Beam and other distillers.
Our wide selection of furniture made from salvaged and reclaimed barn timbers, passed thru the hands of skilled Amish craftsmen, are tomorrows family heirlooms.
Reclaimed Wood Chairs
The majority of the furniture we sell is salvaged or reclaimed oak from old barns and other razed buildings. We are devout believers in the conservation of the forests and trees and this is our way of making a contribution toward preserving the future of the American landscape.
Rustic Amish-Made Tables
Our assortment is quite wide and we can have nearly anything you need built if we don't have it in stock in our Rustic Living Showroom in Waynesville, Ohio. We generally stock a wide assortment of stools, chairs, tables and even bourbon barrel furniture, most of it assembled by the skilled hands of Amish craftsmen.
Accent Pieces
Complete the look by adding a server or entertainment center!